Older articles
Wed June 8th
Creator and Artistic Director Benoit Sokal discusses the importance of music in SYBERIA 3.
Read more ›
Wed May 4th
FALLOUT 4: FAR HARBOR will be available worldwide on Thursday, May 19.
Read more ›
Mon April 18th
"The Originality Factor in Composing for Video Games"
Read more ›
Thu March 10th
The British Academy Games Awards will take place in London on April 7.
Read more ›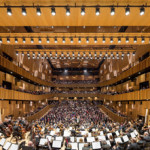 Tue March 8th
Fallout 4 Theme to be performed by Malmö Symphony Orchestra at Malmö Live concert hall.
Read more ›