Older articles
Thu March 10th
The British Academy Games Awards will take place in London on April 7.
Read more ›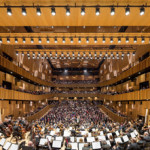 Tue March 8th
Fallout 4 Theme to be performed by Malmö Symphony Orchestra at Malmö Live concert hall.
Read more ›
Mon December 21st
FALLOUT 4 nominated for Best Soundtrack.
Read more ›
Sun December 13th
FALLOUT 4 continues to be recognized by critics in 2015 accolades.
Read more ›
Sat December 5th
FALLOUT 4 honored in Classic FM's Best Video Game Scores of 2015.
Read more ›